Covid-19: Davido Takes A Jab At Other Entertainers
Nigeria's singer, David Adeleke, aka OBO has taking a swipe at other entertainers, over the impact of Covid-19 on some peoples' finances.
The "Ma Dami Duro" crooner make a mockery of some Nigerian entertainer, who may run out of cash in two-three months time, due to the outbreak of Covid-19, which has seen all events involving gathering of people cancelled indefinitely.
The cessation of shows, means no artistes would be able to perform anywhere in the world, a situation which poses real threat to the finances of many Nigerian artistes.
Having this knowledge that it will be impossible to host any show in near future, Davido mockingly tweeted in pidgin English, "In 2/3 we will know those who have savings, as there won't be shows until 2021".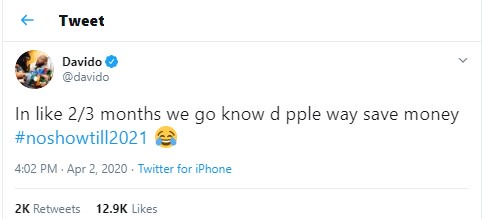 Reacting to Davido's tweet, a twitter user described the father of three as a child, who has never tasted suffering. She said, the DMW boss wouldn't have mocked anyone, if he is mature enough to understand what suffering means.
In her words, "Small pikin thought, well, you be small boy sha, u never taste suffering, that's why. Continue mocking people."
The Blow my mind crooner quickly responded by saying 'Me, I will curse you back o … I won't leave twitter for anybody."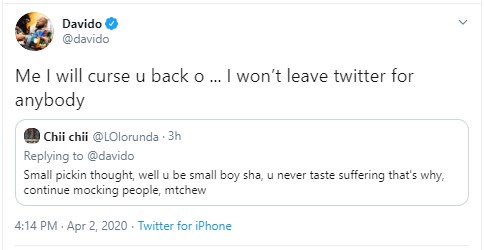 Certainly the impact of Covid-19 on global economy is significant. The world economy is in standstill, as all countries have shut their airports and borders, to contain the spread of Covid-19.
The Federal Government of Nigeria on Sunday, restrict movement in three states which include: Abuja, Lagos and Ogun state. This restrictions of movements at home and abroad has caused serious economic downturn globally and its implication on those who live by hand is enormous.
With global death reaching 51, 335 as at Thursday, and total number of people with confirmed cases approaching a million, the best measure to contain the spread is to stay at home and follow all preventive guidelines according to National Centre For Disease Control (NCDC).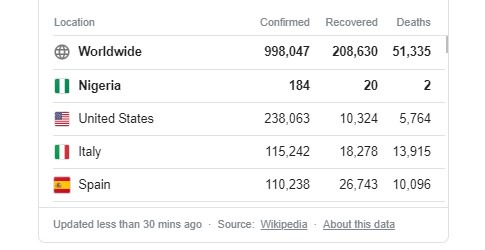 Do you think Davido shouldn't have given such assertion? Kindly comment, like and share to enable others give their views on the topic.
Davido
[youtube https://www.youtube.com/watch?v=XTNyNwVD5pg]