How Korede Bello Reveals His New Look With An Instagram Puzzle
Korede Bello released his new single 'Sunmo mi' early Wednesday, but that was just a fraction of the news in this article.
The Mavin sensational singer who has just nine instagram posts, awesomely teased fans about his new looks in a puzzle like images on his page.
CityBuzz confirms that the Godwin crooner target a best time, like the love season to release a love song like 'Sunmo Mi'.
Sunmo momi, a love song, which portrays a man's determination and confession towards his girl. Korede shares some of the song lyrics as quoted below:
"Girl it's only you

I wanna see in the morning

You know it's only you

wey I go buy that diamond for"
The Nigerian singer and songwriter, Bello, began to tease fans on Wednesday via his instagram page, with posts showing parts of his arm, chest, shoulder, neck and part of his head inside a pool of water.
The posts really makes no sense to followers who anticipated what the 'Mungo Park' crooner was up to, until he finally revealed his head in the fifth post.
The 'Do Like That' singer eventually put up his new hairstyle in the eight post and reveal his new single "Sunmo Mi" teaser in the ninth post.
The artistic and creative puzzle like revelation will definitely wow fans viewing on a computer system.
But no worries, as CityBuzz has provided you with the full puzzle pictures in one post.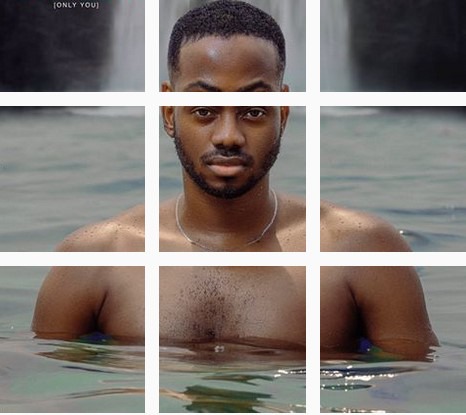 The singer and songwriter, Bello is best known for his hit single "Godwin", a semi-gospel and pop song which became a national anthem and topped many music charts across Nigeria.
Fans have continue to reacts about the Dorobucci star singer's new look.
Whats your opinion about Korede's new look and his new song. Your thoughts are welcome in the comment section.
[youtube https://www.youtube.com/watch?v=QXuycLZB3uA&w=480&h=270]